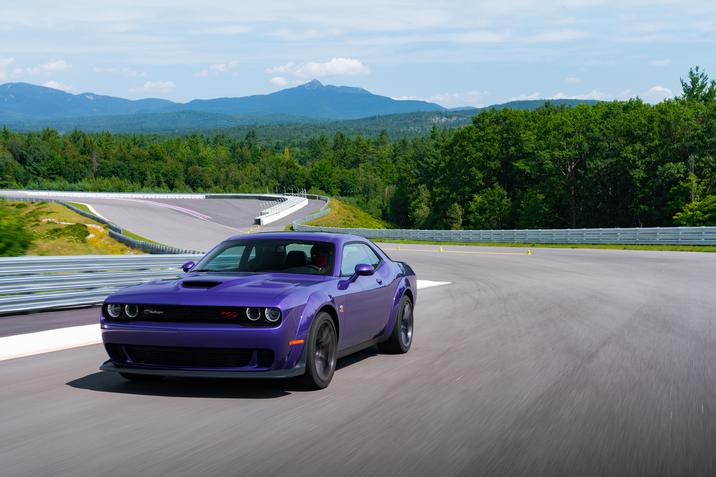 Dodge//SRT revolutionized the modern muscle car with the introduction of the rubber-burning Hellcat. Now, Dodge//SRT is changing the game once again with the newest iteration of this legendary muscle car. Production on the new 2019 Dodge Hellcat due to ramp up soon, you can expect to start seeing these beauties at our dealership later this year. Until then read all about what you can expect from the next-generation Hellcat here.
Why we need the new Dodge Hellcat
Last year Dodge introduced the new Dodge Challenger SRT Demon and with it Dodge celebrated a record-setting year. In 2019, Dodge will continue to push the envelope and go back to its muscle car roots. Dodge is going to elevate its Hellcat line-up with the fastest and most powerful V8 muscle car in production with the all-new 2019 Dodge Challenger SRT Hellcat Redeye. The new Hellcat will be the quickest production car as it can go from 0-60 mph in 3.4 seconds and will have the ability to reach a top speed of 203 mph.
New Dodge Hellcat Specs
Underneath the hood of the all-new 2019 Dodge Hellcat you will find the most powerful production V-8 engine. The Hellcat Redeye will feature the 797-horsepower Supercharged HEMI® high-output engine rated at 707 lb.-ft. of torque. Paired with this powerful engine is a TorqueFlite 8HP90 eight-speed transmission along with 25 major component upgrades.
With the new supercharged high-output engine muscle car enthusiast will find the supercharger to be the largest one installed in any production car. The 2019 Hellcat offers a 2.7-liter supercharger compared to the standard 2.4-liter. The engine offers an increased boost in pressure at 14.5 psi and a higher RPM limit of 6,500. The larger induction box offers three sources of air intake. The 2019 Hellcat Redeye features two dual-stage fuel pumps instead of just one.
Come in and see us today at Acton Chrysler Dodge Jeep Ram where we can take care of all your new and used car needs!